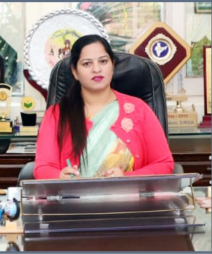 "Education is a shared commitment between dedicated teachers, motivated students and enthusiastic parents with high expectations".

Today, the role of the school is not only to pursue academic excellence but also to motivate and empower its students to be lifelong learners, critical thinkers and productive members of an ever-changing global society. We provide an atmosphere to our students for multifaceted development, where children are encouraged to channelize their potential in the pursuit of excellence. The talents, skills and abilities of each student need to be provided with a platform to think, express and exhibit their skills. They would thus have the pleasure of turning their dreams into reality.

Rajendra Public School is striving hard to inculcate strong values along with academics and extra- curricular activities in the children aiming to empower every individual into a self-reliant and independent citizen. We at Rajendra Public School believe in the success of every child and inspire him to fulfill his ambitions.


Our mission is to provide an academically rigorous education to a diverse population of students in an atmosphere that is nurturing, supportive and respectful. We seek to develop social awareness among our students and help them to widen their vision. Our students are encouraged to share their knowledge, to question and probe ideas and to use evidence and acquired information to support opinions. We promote strong parent- teacher- student connect for a healthy and happy school environment.

Students of Rajendra Public School are offered abundant opportunities. We provide the facilities of art, dance, music and sports to the students. The school is equipped with the all the basic amenities and up to date labs and infrastructure required for a 21st century school.

The school has well planned curriculum as per CBSE guidelines. We constantly endeavour to always live up to this ideology and inculcate co-curricular activities which have the adequate blend with the academics for the overall development of the child.

I am confident enough that Rajendra Public School is adding new feathers in the cap of the School looking forward for active parent participation for the betterment of our children.

With Best Wishes

Principal
Dr. POOJA ANEJA